<![if !vml]>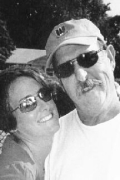 <![endif]>KEVIN J. COSTELLO
AGE: 58 LITTLE SILVER
Kevin Costello, 58, of Little Silver, passed away at home on Thursday evening, Jan. 8, 2009 with his family at his side.  He was born in Long Branch and resided in Little Silver for his entire life.  He graduated from Red Bank High School, class of '69.  He was team co-captain and an outstanding line backer for the Bucs in which he was the recipient of the "Dorn Trophy".  He also played on their baseball team.
He was employed by the US government for over 30 years. He worked at Sandy Hook, Earle Naval Weapons Station and most recently at McGuire Air Force base as a boiler plant operator.
Kevin was a member of the Little Silver Volunteer Fire Department and played 1st base on their softball team.  He also played for and later coached the Middlesex County and Monmouth County 50 and Over League. His team was The Globe Hotel.  He was an avid Giants fan and NASCAR fan.  He spent many a Sunday afternoon cheering on his favorite driver, Dale Jr.

He was predeceased by his father, James "Jabby" Costello and his step-father, Joe Boyle. He is survived by his wife of 33 years, Sue Costello; his son, Danny "Newt" of Red Bank; and his daughter, Amanda "Babe" of Little Silver. He is also survived by his mother, Ann Boyle of Little Silver; his sisters, Carol Ann Nolin and Bette Dibling, both of West Long Branch; his brothers, Jack Boyle of Ocean View, Billy Boyle of Eatontown, Chris Boyle of Little Silver and his beloved dogs, Cocoa and Charlie.

A celebration of his life will take place this Wednesday, Jan. 14, 2009 at the Red Bank Elks Lodge from 4pm to 9pm.  There will also be a memorial service on Tuesday evening at 6pm at the Methodist Church on Broad St. in Red Bank.

In lieu of flowers, donations may be made in Kevin's memory for his grand daughters' education.  They can be sent to the Julianna Costello Ribeiro Education Fund, c/o Carol Ann Nolin, 802 West Park Ave., Ocean, NJ 07712.